The planning process is FINALLY over (Woohoo!) and it is now time to execute the plan!
The execution was taking a bit longer than they both expected however they had a deadline to meet. They wanted everything done in time for their daughter's graduation party, so it was time to crack the whip and get to work.
Roger began working some week nights after work as well as every Saturday and Sunday on this massive deck project. The time began creeping up on him and his son Michael jumped in to help him every chance he got. It wasn't before too long that the whole family, brothers, sisters, cousins, and parents were all giving Roger a helping hand. It took all hands-on deck (no pun intended lol) to get the job done on time.
Once they finished framing the deck and installing the Timbertech flooring, they were able to move on to framing the outdoor kitchen, both pergolas, and a the slider door.
The family was able to work well together, setting up several different stations for everyone to get involved. Some people measured and cut, while others framed the pergolas and kitchen area. It was a crazy few weeks but they were able to complete the pergolas, the kitchen area, and get that slider installed (in fact Roger was able to complete the slider install himself :0).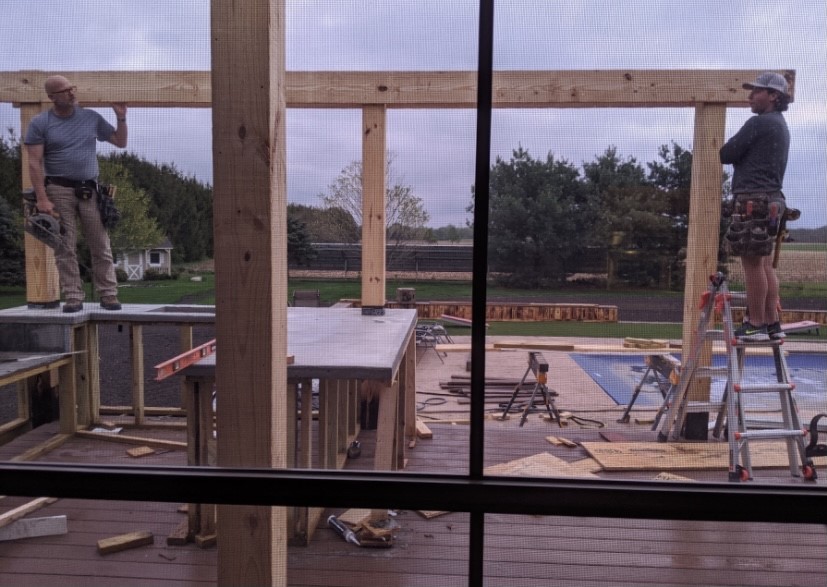 The pergola over the kitchen area was different than most. It contained an enclosed roof made of shakes, and the posts, beams, and skirting were all burnt to add an extra "rustic" look to the pergola. Roger decided he didn't want to purchase a countertop, but instead he wanted to make them out of concrete. It turned out beautifully! The kitchen was now ready for the electric and plumbing to be installed.
It was all coming together! The only question at this point was "Will we finish everything in time?". They had all the major projects completed, however its all the "little" details that can get you!

Tell us about your project.
If you are interested in having your own project done call our office today: 614-733-4401 or email us below!
We would love to help you create your outdoor living space!
https://www.headingsbrothers.com/wp-content/uploads/2021/09/headings-brother-construction-7.jpeg
1080
827
Eric
https://www.headingsbrothers.com/wp-content/uploads/2015/01/HEADINGS-LOGO-brown-orange_03-300x101.png
Eric
2021-09-08 16:39:49
2021-09-08 16:39:49
Time to Execute the Plan